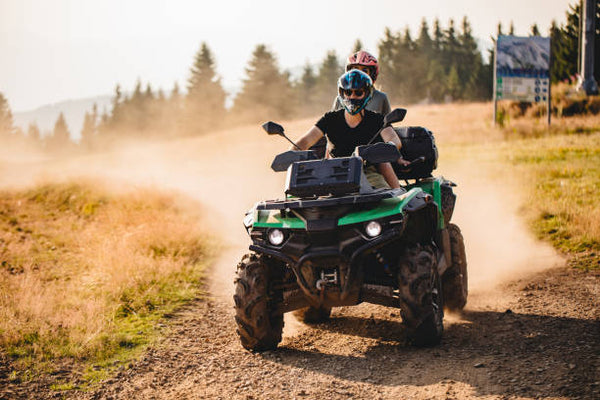 5 Places to ATV in Ontario This Summer
In Ontario, we're lucky to have access to some great ATV trails, which is fantastic especially if you live in a bigger city and are looking for an adventure. Here are 5 places to visit across the province for some ATV fun this summer.
Muskoka 'Explorer's Edge'
Located a couple of hours north of Toronto, this location is ideal for those looking for either a day trip or a quick weekend getaway. Whether you're a novice or a seasoned rider, there is a fun  ATV experience waiting for you. There are multiple tour options: Bear Claw Tours (Parry Sound Area), Yamaha Riding Adventures (Huntsville Area), and Redline Outdoors (Bayview Wildwood Resort). You can also explore the multiple Crown land trails by yourself if you prefer! One of the most well-known trails in this area is the 'Park to Park Trail' which runs 230km from east of Algonquin Park to the west of Killbear Provincial Park.
Image from Muskoka Explorer's Edge website.
Bruce County Rail Trail
Located just outside Port Elgin, this scenic and multi-purpose trail is 80km in length; running from Port Elgin to the Bruce-Huron Line and from Port Elgin to Bruce Road 33 near Kincardine. It has recently been completed, with the trails being finished with a mix of soil and aggregate. It's also home to the Teeswater and Willow Creek Trestle Bridges (Paisley area) which are known to be fantastic lookout points, so make sure to stop and take in the views!
Ottawa Valley Trails
If you're located in the Ottawa Valley, you're in luck! The Renfrew County ATV Club offers an impressive 750km of ATV trails that take you through the bush and river/lakeside. The trails are appropriate for all ATV riding levels and are only accessible during the spring/summer months. Some of the well-known trails are Logger's Loop trail system, Pakkotina trail system, Opeongo trail system. The trails have a ton of volunteers, trail patrollers, and training available to those who would like it.
Voyageur Multi-Use Trail System
Located in the far north of Ontario (up above Algonquin) in Mattawa and its surrounding townships, this multi-use trail system runs 300km between two mountain ranges (Laurentien mountains and the Algonquin Highlands). The difficulty level ranges from novice to advanced. There are lodging and riding tours available through the 'Mattawa Adventure Camp'. There are also other outdoor activities such as Hunting and Fishing available. If you're from southern Ontario and willing to make the drive, it's a great place to ride as it takes you through beautiful pine forests and valley scenes.
Check out this great video from their site!
Haliburton Highlands Trail System
Located above the Kawartha lakes but south of Algonquin, this trail system runs over 500km through the Haliburton Highlands. It links to the Muskoka Trail System, Madawaska Trail System, Kawartha Trail System & Five Points Trail System. It's appropriate for intermediate to advanced riders. There are many accommodations nearby such as Motels, Resorts, and a Campground; so it's the perfect place to go for a weekend getaway!
Thank you for taking the time to read this article. Hopefully, it provided you with a good overview of some options to plan for your ATV adventure this summer! If you have any more questions, please leave your: name, email, and comment in the fields below. We'd love to hear your feedback. Safe riding!