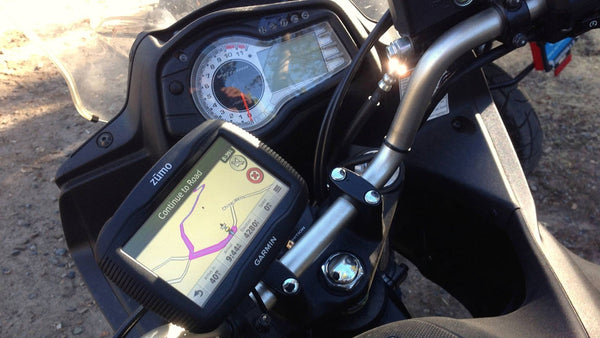 4 Helpful Apps to Download for Motorcyclists
These days, we have unlimited access to pretty much everything we want or need right at our fingertips. The beauty of this is that we can take our smart devices on the road with us. This week, we decided to take a look at four apps that you should download for your next motorcycle adventure!
App 1: Waze
Starting off with a classic navigational app, Waze makes it super easy to get around quickly. It will make it easy to plan out your ride. Waze is great in terms of letting you know what trouble you might run into on the road. Other 'wazers' can report traffic, accidents, construction, etc. so you can avoid those routes and get to your destination faster. 
It also provides info such as the closest gas station, restaurants, and parking. Overall for the fact that it's a free app - it's super handy and will surely help you out on your ride!
App 2: Motorcycle Weather
This app is great if you're picky about riding conditions, or you want to avoid severe weather where it's unsafe to ride. Motorcycle Weather allows you to input your optimal weather conditions for riding
What's even cooler is that the app will actually send you a notification when your perfect riding conditions are matched. Not ideal for planning ahead - but great for those last minute adventures!
App 3: Eat Sleep Ride
This app serves as both a GPS and a social app. Navigation wise, you can track your rides, note your speed and lean angles, and upload routes you take frequently or that you enjoy. 
Socially, the app can let your friends and family know where you are on the road, and it can connect you with other riders nearby. This is great for fostering community, as you can see if there are any group rides or events going on. It is also free - so you can't go wrong!
App 4: AUTOist
AUTOist is a great motorcycle maintenance app for you to have, and can help you keep track of the health of your bike. It lets you keep on top of all your service history, inspections, reminders/work orders, parts inventory, etc. 
It's also great if you own more than one bike, as you can log multiple vehicles on it. If you're more on the forgetful side, it will alert you when you need to complete a task such as an oil change. It also comes with a feature called 'glove box' that allows you to enter vehicle registration, insurance papers, licenses, etc. so you're never without it in case you forget them. 
It's simple to use, offers 24/7 support, and is mobile focused. Definitely an app worth checking out.
So there you have it! We're pretty lucky to live in an era where there's an app for virtually everything, even motorcycle riding! Thank you for taking the time to read this article. If you have any more questions, please leave your: name, email, and comment in the fields below. We'd love to hear your feedback. Happy riding!