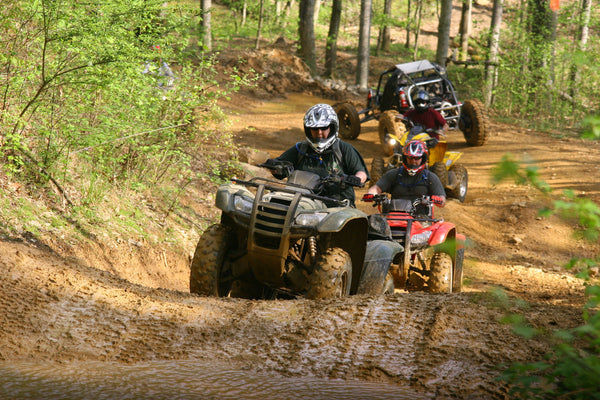 ATV Safety Tips
In Canada, we're lucky to have access to so many awesome ATV trails! This super fun Power-sport gets people hooked in no time. We love seeing content from all our four-wheeling friends. Whether you're on 2 wheels, or 4 - it's always good to be reminded of precautions you can take to keep yourself and others safe on the trail. If you're new to four-wheeling or just looking for some helpful safety tips, we've got you covered!
Basic Tips
Take an ATV riding course: There are many wonderful courses available that cover recreational riding, trail riding, job certification training, etc. It's a great way to brush up on your safety skills, which will reduce your chance of accidents while riding. If you're located in Ontario, the 'OFATV' offers an ATV safety course that provides both instruction and time on the trails. If you are located elsewhere in Canada or wish to do the training online, 'The Canadian ATV Operator Course' offers interactive online content that brings the learning materials to life. 

Never ride alone: Even if you're a more seasoned rider, it's always better to be with a partner in case of an unexpected emergency. Especially if you're riding on a trail you're not as familiar with.

Ride responsibly: Always ride sober, and try to ride on actual trails. A lot of accidents occur when individuals are riding on illegal paths or after a few too many. It's also important to ride at a safe speed and when there's good visibility (a.k.a - not at dusk or nighttime).
Be prepared with the Right Gear
Clothing that covers: when you're going through trails, a lot of debris such as rocks, dust, dirt and sticks can come flying at you. Wearing long sleeves, pants, and boots, can help protect your skin against cuts and scrapes. 

Helmet: sometimes you hit an unexpected bump or run into rougher terrain, causing you to be thrown from your ride, wearing a helmet can make all the difference in life-threatening injuries. Protect your head!

Air pumps and tire plugs: If you're up on a mountain or deep down a trail, you're not going to have much luck calling a tow truck to come and get you if you get a flat tire. Having an air pump and tire plugs will give you some peace of mind.

Tool kit: You never know when you're going to have maintenance issues. Hopefully, they'll be small enough that you can fix them yourself on the road - and that's why its' always smart to have tools handy.
Source: ATV-gear
Tips for Trail Riding 
Trail riding can be a lot of fun, especially with your friends and family. Of course, you want everyone to have a great time AND stay safe. Here are 10 tips from MotoSport on safe trail riding.
Wear Gear: helmet, clothing, goggles, etc.

Inspection: make sure everything's working with your ride before heading out

Don't ride alone

No drinking and riding

Stop if you're tired: fatigue can lead to an increased risk of accidents

One ATV rider only: unless your vehicle is made for two people, keep it to one person

Ride of designated trails 

Ride the correct size ATV

Be aware of your surroundings

Don't perform silly stunts that could get you or someone else hurt
Source: Explore Oak Ridge
Thank you for taking the time to read this article. Hopefully, it provided you with helpful safety tips for ATV riding. If you have any more questions, please leave your: name, email, and comment in the fields below. We'd love to hear your feedback. Happy riding!