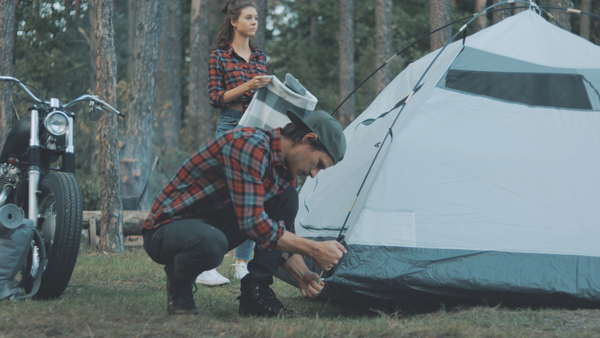 How to Prepare for a Motorcycle Camping Trip
Summer is right around the corner, which means it's time to create some memories and head out on new adventures! If you're planning a motorcycle camping trip this summer, then keep on reading. This article will walk you through the basics of motorcycle camping and provide tips to ensure you have a successful trip.
Tip 1: Get your Motorcycle Checked
Tip 2: Invest in Good Motorcycle Camping Gear
Tip 4: Pack the Appropriate Amount
Tip 1: Get your Motorcycle Checked
Before leaving, you should check that everything is working properly with your bike. This will give you peace of mind during your trip. The last thing you want to worry about is tire pressure, oil changes, or brake fluid! This is good practice before any long rides and will make sure you and your bike stay safe.
Tip 2: Invest in Good Motorcycle Camping Gear
Investing in high-quality gear (for both riding and camping) is very important as you want to stay comfortable for the duration of your trip. 
Clothing wise, you'll want to consider that you will be riding in warm weather for a longer period, but some examples of motorcycle gear you can wear: 
Mesh summer motorcycle jacket

Synthetic long sleeve shirts

Summer motorcycle pants with ventilation 

Warm weather riding gloves 

A cooling Balaclava for under your helmet (such as GEARS CoolMax® Balaclava) to keep your head cool under your helmet
In terms of actual camping gear for a motorcycle trip, these items are definitely essential and important investments:
Tent

Ground cover/tent footprint

Sleeping bag (with a pad, air mattress, or cot) 

Cooking supplies

Toiletries

First Aid Kit
It's also a good idea to take a look at the weather and plan to bring the appropriate gear for both riding and camping in whatever weather conditions you'll be exposed to.
Tip 3: Plan Your Trip
Researching sites beforehand will let you know which motorcycle camping grounds have certain amenities and resources available to you. For example:
Considering what cooking options and food sources are nearby

Laundry 

Washroom/Showers

Electrical sources (if needed)
Tip 4: Pack the Appropriate Amount
If you're notorious for overpacking, you're going to want to take extra care when packing for a motorcycle trip. Remember, you have a limited amount of space and weight that you can carry on your bike. Make sure you bring along all the essentials: toiletries, camping gear, first aid, clothing, etc. but try and keep it to the bare minimum. This also depends on how long you'll be gone and what amenities are available at your site, so keep that in mind.
The size of your luggage bag will also play a role in how much you can bring with you. If you're headed out on a longer camping trip but don't want to mount a luggage rack, then a tail bag or saddle bag would be a good choice to use.
Woohoo! You're ready to head out on your adventure. It's time to have fun and make some amazing memories - you've earned it after all that planning. Oh, and one last thing - don't forget to pack bug spray!
Thank you for taking the time to read this article. Hopefully, it provided you with the information you need to prepare for your motorcycle camping trip. If you have any more questions, please leave your: name, email, and comment in the fields below. We'd love to hear your feedback.