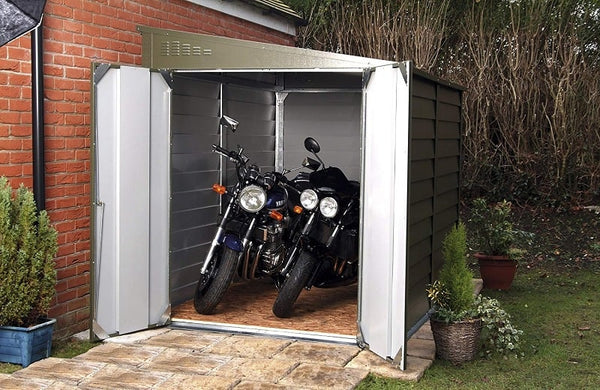 How to Protect and Store your Motorcycle
Storing your motorcycle properly can make a world of difference in the long-term upkeep and security of your bike. Whether you're new to riding or are looking for new ways to protect and store your ride, we've got you 'covered' (no pun intended) with some tips to protect and store your motorcycle.
First, let's take a look at Indoors vs. Outdoor storage:
Indoor Motorcycle Storage
If you have the space to do so, storing your bike inside is a good choice for a few reasons:
Out of sight out of mind: Unfortunately, we live in a world where people steal stuff that isn't theirs. Keeping your motorcycle locked up inside will reduce your risk of theft and give you a little more peace of mind. 
Fully protected against the elements: Another positive of storing your bike inside is it prevents damage from the elements such as rust that can be a result of moisture build-up.
Lower insurance: if you're looking to cut some costs, most insurance companies will ask whether you store your ride inside or outside and adjust your rate accordingly.
Outdoor Motorcycle Storage
If storing your bike outside is your only option, here are some tips on summer and winter motorcycle storage:
In the summertime, keep your bike out of the sun. Prolonged exposure to sunlight can cause plastic parts to become more brittle, and discolour paint on your bike. If there's no shade available, it's best to purchase a motorcycle cover with UV protection such as GEARS.
If you're parking your bike outside during the winter, again it's best to have a spot that is partially covered or to purchase a cover. There are some easy to assemble options such as the GEARS Pro-Shelter Garage, which is waterproof and will help shelter your bike from snow and wind. 

Storing your motorcycle outside also brings up the issue of security. It's best to keep it covered so it's less obvious and to lock it to an object or use an anchor.
Long-term Motorcycle Storage 
For long-term storage, here are some steps on how to prepare your bike for storage:
Wash Bike Before Storing 

Lubricate

Fill up the gas tank (and use a fuel stabilizer)

Tender the battery

Drain the carbs

Plug the exhaust pipes

Protect your wheels

Keep it covered
Thank you for taking the time to read this article. Hopefully, it provided you with helpful advice on how to store and protect your motorcycle. If you have any more questions, please leave your: name, email, and comment in the fields below. We'd love to hear your feedback. Happy riding!