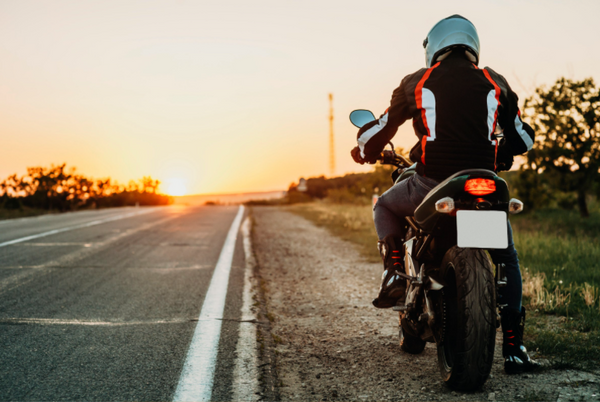 How to Stay Cool while Riding a Motorcycle
Summertime in Canada is quickly approaching, which means it's about to get warm very quickly. That doesn't mean you have to suffer through the sweltering heat on your motorcycle. This article is going to give you 4 tips and tricks to beat the heat and enjoy your ride.
Tip 1: Don't ride during the warmest time of the day 
Maybe a bit of an obvious one, but very important! The sun tends to be the strongest during the hours of 12-3 p.m so if you can - go for a ride before or after these hours. Thankfully we have the most hours of daylight during the summer months, so there's still plenty of time to get out on the road. 
Of course, if you are riding during dawn or dusk hours, please make sure to take important visibility cautions (such as reflective clothing) to ensure your safety.
Tip 2: Stay Hydrated
If you're sweating in warmer weather, that means your body is using all its fluids - so you need to make sure to replenish your supply! Bring extra water with you on the road (keep it safely in your motorcycle bag). Make sure to make pit stops if you need a break.
Tip 3: Keep your layers ON
A lot of riders tend to ditch the extra gear to beat the heat and expose their skin to the elements. Doing so will actually have the opposite effect. Exposed areas are harder to keep cool as the sweat in this area will evaporate while riding due to the wind drying it more quickly. Keeping those layers on will help you stay cooler in the long run.
Tip 4: Wear the appropriate gear
Staying covered doesn't mean you have to wear a leather jacket (which would be far too hot for riding in full sun conditions). Some good clothing options for riding in warm conditions are:
Mesh summer motorcycle jacket

Synthetic long sleeve shirts

Summer motorcycle pants with ventilation 

Warm weather riding gloves 

A cooling Balaclava for under your helmet (such as GEARS CoolMax® Balaclava) to keep your head cool 
Those are 4 basic tips to keep in mind as we head into the warmest months of the year. Some other tricks include soaking a bandana in water to put around your neck and making sure to wear sunscreen.
Looking out for signs of heat exhaustion/heat stroke is also extremely important. If you experience any of these please stop your ride and seek help immediately. 
Flushed skin

Alteration is breathing

Rapid heart rate

Headache

Alteration in sweating

Dizziness  

Nausea/Vomiting
Thank you for taking the time to read this article! Hopefully, it provided you with the information you need to stay cool on those warm summer rides. If you have any more questions, please leave your: name, email, and comment in the fields below. We'd love to hear your feedback.