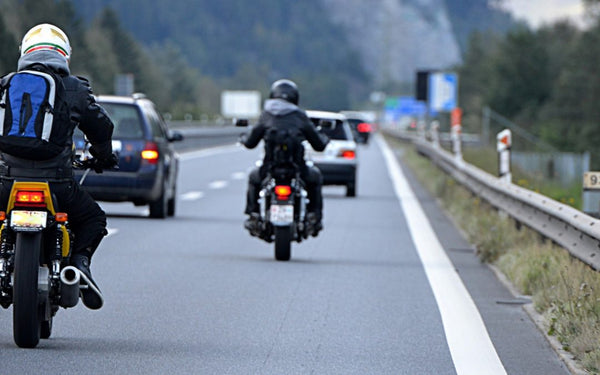 Motorcycle Safety 101
Summer is here and so is riding season! It's always a good idea to brush up on your motorcycle safety before heading out on your adventures. In this article, we'll review 5 tips to keep you safe:
1. Take a Motorcycle Safety Course
2. Get your bike thoroughly checked
5. Take weather conditions into account
1. Take a Motorcycle Safety Course
There are many great options for motorcycle safety courses (especially if you live around the GTA) that will teach you valuable road skills, all about buying the correct gear, the ins and outs of how your motorcycle functions, etc. 

GEARS is partnered with the Rider Training Institute (located in Toronto) a "not-for-profit" organization that is known as Ontario's largest motorcycle licensing and training school. They offer a variety of courses such as riding basics, riding strategies, technical, maintenance, Intro to Riding, Roadworthy skills, Refresher Training. They cater to beginners and advanced riders and have program locations throughout Ontario.                    
2. Get your bike thoroughly checked
Keeping up with your bike maintenance is crucial to having a safe ride. Just like a car, it's important to check turn signals, brakes, and headlights regularly. Also check your tire pressure, oil, brake fluids, etc.
Here is a 9 steps checklist drawn from Revzilla you can use to ensure your bike is ready for the season:
Walk around (check the basics)

Check battery 

Tires and wheels 

Final drive

Brakes

Fluids

Filters

Controls

Final check (test everything)
3. Ride defensively
When sharing the road with others, everyone has the responsibility to look out for each other. Unfortunately, a lot of cars and trucks don't always check their surroundings which results in injuries or fatalities in the riding community. Learning how to ride defensively puts you in a better position to protect yourself on the road.
What is defensive riding? Defensive driving simply means learning how to assert your place on the road, which is a preventative measure against accidents. A big part of it involves making other vehicles aware of your presence on the road. This could include: using your horn, wearing reflective clothing at night, be assertive (not aggressive), use cars as shields, overtaking cautiously, etc. Keep yourself safe!
4. Dress appropriately
Wearing appropriate gear doesn't only help protect you against weather conditions, it also protects you against injury yourself - and protects you better if you fall. Of course, a helmet is required by law in Ontario. Other items you can wear to protect yourself while riding a motorcycle include: 
Gloves: helps protect your hands from debris on the road, and keeps your skin safe in case you fall (ensure at the very least the palms of the gloves are made of leather).

Eye protection: good visibility is part of staying safe! Ensure you have a clear vision by wearing goggles, glasses, or sunglasses.

Jacket: leather or synthetic material specifically for motorcycling is best, and will help you stay protected if you fall and slide.

Boots: Appropriate footwear is super important, they should be high enough that they meet your pants and cover your ankles.

Pants: Just like a jacket, long pants will protect your legs from debris, the sides of your bike, and if you fall.
5. Take weather conditions into account
Weather can affect your safety on the road, especially if it's cloudy and rainy out! Here are 6 tips for riding in the rain:
Gear up with rainwear: invest in a waterproof rain suit, anti-fog goggles, and glove/boot covers (such as GEARS Dri-Tek 2-Piece Rain Suit).

Scan ahead: try to avoid puddles and holes/bumps in the road as they reduce traction.

Be aware of intersections: Be careful you leave enough time to brake at intersections.

Focus on one thing at a time: keep your attention on the bike and the road.

Find a dry line: for example, you can follow at a safe distance behind the dry line of a vehicle. 

Take it easy: don't panic! Relax and trust yourself. This will keep you calm and safe. 
Thank you for taking the time to read this article. Hopefully, it provided you with helpful safety tips to ensure you stay safe on the road. If you have any more questions, please leave your: name, email, and comment in the fields below. We'd love to hear your feedback. Happy riding!