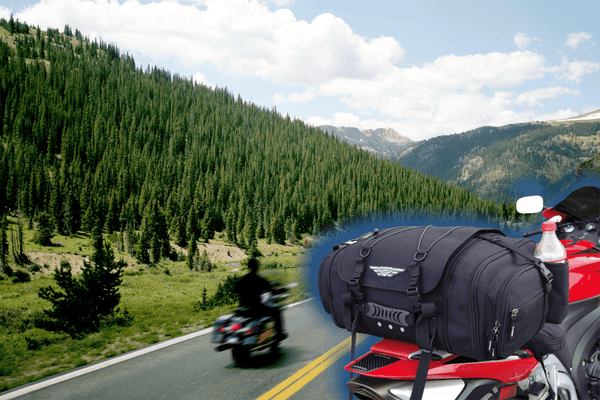 Tail Bag vs. Tank Bag vs. SaddleBag - The best option for your Motorcycle
With multiple luggage options to choose from, it may be difficult to figure out which one will suit your needs best and work well with your motorcycle. Read on to find out the key differences, features, benefits, and compatibility for these three types of motorcycle luggage:

Tail Bags
Definition and Key Features: Tail bags
A tail bag attaches to the back of your motorcycle, covering the passenger seat and part of the tail. Some key features and benefits that you should look for when buying a tail bag include:
Waterproof cover storage

Side pocket storage

Exterior storage 

Rugged carrying handle

Quick-release securing strap (under buckle) 

Wide mouth main compartment opening

Reinforced base
Benefits
Tail bags allow you to significantly increase your carrying capacity, without having to add a luggage rack; ensuring convenience on longer rides. Designs such as the GEARS 'Navigator Motorcycle Tail Bag' are manufactured to be versatile, durable, and secure. Its anti-scratch base ensures your bike won't be damaged, and the bottom of the bag is equipped with hook and loop straps to wrap around the seat for stability. You can ride knowing that your bike and the bag's contents are safe.
Compatibility 
Tail bags are most compatible with sport, sport-touring, and adventure touring (Navigator) bikes. We recommend its use for bikes with a tall section width of 10.2 inches or less.
Tank Bags
Definition and Key Features: Tank Bags
As the name alludes, a tank bag attaches to the tank of your bike. They can come in a range of designs and sizes. Some key features and benefits that you should look for when buying a tank bag include:
Rugged carrying handle

Easy access lower pocket

Clear Map pouch 

Flap securing buckles

Extra side pockets

Hard-sided main compartments

Multi-Magnetic flap

Wide mouth opening

Organizational mesh pouch 

Wide mouth Mid-Bag Pocket

Included waterproof cover
Benefits
Motorcycle tank bags are great for everyday use, allowing you to store your essential items in a compact and easily transportable way. They don't take up much room or hinder your mobility on the bike. Another bonus of it being on your tank is that it's never out of sight, and features such as a clear map pouch mean you don't have to worry about a mounting bracket. Certain designs like the GEARS 'Explorer Motorcycle Tank Bag' even convert into a backpack with padded shoulder straps, making it the perfect 'on-the-go' bag.
Compatibility
They are compatible with most bikes. Since tank bags tend to be on the smaller side, and are easy to install and detach; making them a solid choice all around.
Saddlebags
Definition and Key Features: Saddlebags
Saddlebags sit across the rear portion of your motorcycle seat and rest on the side of your bike. Some of the key features include:
Dual tied zippers

Rugged Rubber handles

Reinforced side bags

Easy Release Mounting System 

Quick-release securing buckles
Benefits
Saddlebags are great for long rides. They are quick to install and also easy to release and are equipped with multiple pockets to store your belongings. Once they are detached they can also be carried over your arm or shoulder. Designs such as GEARS 'Tourister Motorcycle Saddlebag' hug the side of your bike have heat-resistant bottoms (to prevent burning), and large zip pockets with rubber pull tabs so they are easy to open (while wearing riding gloves) and load. There are also more classic designs such as GEARS 'Studs & Braids Motorcycle Saddlebag', that can be used as a mounted or a throw-over saddlebag. All in all, these are a great choice if you're looking for a durable bag for longer rides that provide you with more mobility than a tank bag (as they sit on the side of your bike and take up less room).
Compatibility 
These bags come in quite a few different designs, so depending on the type of bike you own (ex. Tourister vs. Voyager, Cruiser vs. Sportsbike) you're likely to find one that is compatible.
So there you have it! Hopefully, this article will bring you one step closer to picking out the perfect motorcycle bag that will suit your needs and accompany you on your adventures. If you have any more questions, please leave your: name, email, and comment in the fields below. We'd love to hear your feedback. Happy riding!