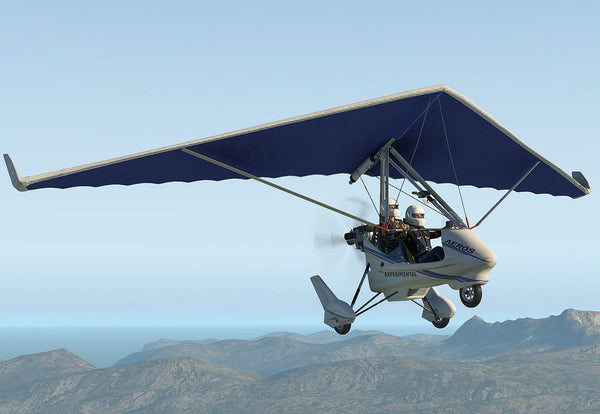 Trike Pilots LOVE Gears Heated Clothing
One of our extra-adventurous customers shared the story of his Trike Trip in New Mexico
Pilot's Log - Tuesday October 8,  2019
6:00 AM at the Belen Municipal airport which lies an hour's drive south of Albuquerque New Mexico and we hear the distinct toot toot of Jeff's Honda Fit car pull up to the hanger. Bruno and I have rented the hanger next to Jeff and Paul's hanger. All 4 of us are high time trike pilots, having logged thousands of hours cumulatively. We open our rented hanger and get dressed for the flight.  It is 36ºF. I am glad that Bruno and I purchased heated clothing from Gears Canada. Under our flight suits we remain comfortable despite the early morning desert cold. The photo below was taken pre-dawn as we prep ourselves and the trikes for a 4 hour flight in the local area. Jeff has a roughly 300 mile trip planned this morning and we are very fortunate because these local pilots know the best places to fly and how to stay safe in the local mountain conditions and the related mountain mechanical turbulence.
- Adrian
 

This was the first time we at Gears Canada had heard of anyone using our heated clothing on a trike! We were very curious so we asked Adrian if the trikes are made for one person or two. Here was his reply:
Yes the trikes do carry passengers. We tend to keep passenger flights more localized - not very long distance because the rear seat is where we carry our gear, and for safety concerns (much of the terrain we fly over is engine failure un-landable - and we do not risk a passenger's safety flying over those areas).
One of the main reasons we could do all these trips was the Gears heated clothing. I was warm all the time - even in freezing temps. Sometimes we flew high to escape thermal turbulence - so up to 11,300'. The temperature drops between 2-3C for every 1000 feet above sea level. At 10,000 feet that is a 20-30ºC temp drop. Ours are open cockpit aircraft - and we would not change that for closed cockpit - we love open flying.
I did not use the Gears heated glove liners, only used the heated gloves. But I think I will keep the liners as emergency back up and can put them inside flying mitts. The flights would not be possible if the gloves failed - it is way too cold on the hands on the control bar at those temps. The gloves and all the gear worked great.
 The photo below is of a beach landing in Texas a few years ago...
Thanks,
Adrian
Here's another extraordinary adventure from Adrian few weeks ago in the Salmon River
I have been flying this fall with my GEARS clothing on and it has kept me wonderfully warm. Recently I did a long flight of 3 hours to film the entire length of the Salmon river for a group called the " friends of the Salmon River" in the fall colors. We mounted 2 GoPro cameras on the aircraft and I kept them warm under my GEARS jacket until I landed at Baker's field near the beginning of the River at Kennebec lake.
Adrian mentions the previous trip how and how GEARS clothing helped him the entire flight. Here was his thoughts:

Whenever above the cloud it is usually below freezing so the GEARS clothing makes this possible for longer flights. Last fall we were flying a lot in New Mexico and Utah and leaving very early in the mornings. Some of those mornings were 27-28 F and we were in the air for up to 4 hours. Those flights would not have been possible without the GEARS heated clothing in our open cockpit flyers. Both my friend Bruno and I stayed warm in our new GEARS clothing on these long morning cold desert flights.
 The photo below is of a large hole in the clouds a few weeks ago...
Take Care,